We Are Proud Members of the ECP Network
Foundation Professionals of Colorado are proud of the products and basement repair services that we offer to our Front Range communities. We work hard to be at our best when we meet with you to design and install a lasting solution. Everyone in our company is nationally certified.
Because we want to ensure that you get the highest quality foundation repair service possible, we searched the nation over to find a foundation repair product manufacturer/partner that not only offered patented solutions but that also offered a warranty direct to our customers. ECP, or Earth Contact Products, is all that and more.
By partnering with ECP we know that we are getting products that are made of high-quality American Steel designed to perform in the real world. Being connected to a large network of foundation repair professionals is invaluable to a small company like ours looking to offer solutions that we would not be able to design or manufacture on our own.
Partnering with ECP also allows us to offer an industry-leading warranty that guarantees your foundation repairs for the life of the product. This warranty is nationally backed by ECP and its network of partners and is transferable to new owners. No one else offers that kind of peace of mind!
719-419-8955
Licensed | Insured | Free Estimates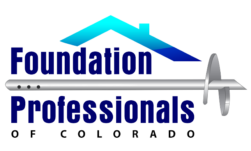 Call Now For Expert Advice & Solutions
Call or Text (719)-419-8955